China White Marble Slabs- Guangxi White Marble
China White Marble Slabs- Guangxi White Marble
Guangxi White is a kind of white marble quarried in China. This stone is especially good for Countertops, monuments, mosaic, exterior - interior wall and floor applications, fountains, pool and and other design projects. It also called White Guangxi, Guangxi Bai, Guanxi White, White Guangxi Marble, China Carrara White Marble. Guangxi White Marble can be processed into Polished, Sawn Cut, Sanded, Rockfaced, Sandblasted, Tumbled and so on.
Guangxi white marble produced in Guangxi Hezhou city. Guangxi white marble is the first choice white marble with its white board, landscape cloud texture, low price. It's widely used in internal and external walls, window surface, lines, the ground, etc. Guangxi white marble is the cheapest white marble on the market now.
There are grey veins and yellow veins in Guangxi White Marble slabs. The veins are quite different for different blocks. There are big slabs, small slabs on the market. The biggest slabs size can be 200upx2600upx2cm.
Chinese Cheap White Marble Slabs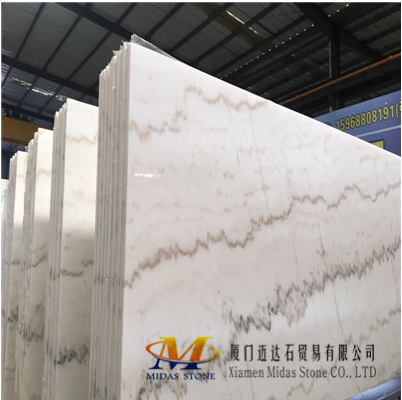 China Carrara White Marble Slabs